Sadalore

Sadalore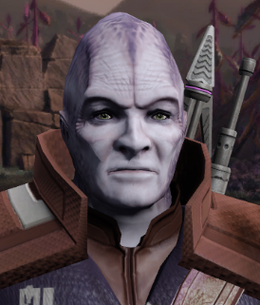 Profession(s):
Mission giver
Hanchon Sadalore is a Kobali located at the Eastern Outskirts on Kobali Prime. He is in charge of the Hillside Base (located south of Forest 55) in the fight against the Vaadwaur.
"Data Recovery": After recovering the Kobali Data from the Overrun Base and erasing the Kobali Information from the Vaadwaur Consoles, the player meets up with Hanchon Sadalore in the Forward Camp to turn in the mission.
"Hidden Assault": General Q'Nel asks the player to meet with Hanchon Sandalore at the start of the mission. Sadalore then assigns the remainder of the objectives.