Rraak

Rraak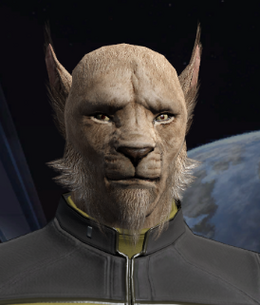 Profession(s):
Mission contact
Mission giver
Transporter chief
Ensign Rraak (also spelled as R'raak) is a Caitian Starfleet officer. He is part of the Federation player's graduating Starfleet Academy class of 2409. After the conclusion of the first training cruise, he is stationed on Earth Spacedock and provides players with information on the station's functions.
"Training Cruise": Cadet Rraak is serving as the transporter chief on the player's ship. When the ship is boarded by Klingon raiders, Rraak is injured but survives the attack.
"Surface Tension": Seeking a more benign assignment, Rraak subsequently transfers to Earth Spacedock and is promoted to Ensign. In early 2410, the player encounters him on the badly damaged spacedock when the Sol System is attacked by the Undine. Rraak is traumatized by the ambush, but after a mind-meld administered by Rear Admiral Tuvok, is able to temporarily assist the player in repelling the attack.
Rraak is the second Caitian character to have voice acting in the game, the first being Lt. Kyona.
Until the removal of Memory Alpha with Season 9.5, Rraak also gave the mission "Scientific Mandate".
Rraak is the only member of the Class of 2409 not to become one of the player's bridge officers whose fate after the training cruise is known.