As part of the Unified Community Platform project, your wiki will be migrated to the new platform in the next few weeks. Read more here.
Romulan Shuttle
This is for the NPC vessel. Please see Tiercel Shuttle and Kestrel Runabout for the playable small craft.

Romulan Shuttle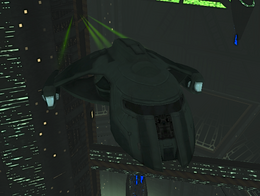 Romulan Shuttles are small, lightweight shuttles of Romulan design. There are two variants: Tiercel class and Kestral class.
| Level | Standard Difficulty | Advanced Difficulty | Elite Difficulty |
| --- | --- | --- | --- |
| 13 | 981 | - | - |
| 17 | 1,191 | - | - |
| 22 | 1,567 | - | - |
| 29 | 2,032 | - | - |
| 34 | 2,464 | - | - |