As part of the Unified Community Platform project, your wiki will be migrated to the new platform in the next few weeks. Read more here.
Qulash Entangler Frigate

Qulash Entangler Frigate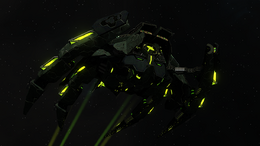 The Qulash Entangler Frigate is a class of frigate used by the Elachi. They are highly maneuverable and have a wide variety of weapons and abilities. Unlike other Qulash Frigate varients, the Entangler can use Subspace Jump to appear behind the player's ship to attack them from behind.