Phlen
Timeline Change Imminent!

---

This article contains information that no longer applies to the current version of Star Trek Online. It is provided only for historical purposes.
Phlen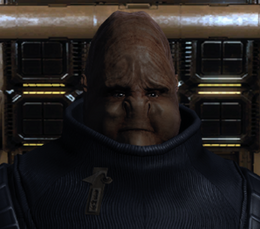 Military Rank:
Subcontractor
Subcontractor Phlen is a male Overlooker and a member of the Hierarchy.
== Missions Involved ==.
"Kinbar System Patrol": Phlen hails the player in the Kinbar System with a request to provide security for his supply station. Depending on which random mission objectives the player receives, he will either be impressed or displeased at the success of their venture.