As part of the Unified Community Platform project, your wiki will be migrated to the new platform in the next few weeks. Read more here.
Pet Targ
Targ Pup
Rare Inventory
Bind On Pickup
Values do not reflect skills or other modifiers
Summon Targ Pup
Value: 0

A Pet Targ is a cosmetic pet for Klingon characters only, that a player can summon and dismiss at will. This is a non-combat pet.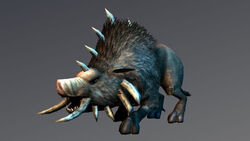 Pet Targs could be obtained as a BestBuy Collector's Edition, HMV, and MicroMania preorder retail exclusive of Star Trek Online, from the C-Store for 300

, or as a random reward during the One Year Anniversary Event. It can be claimed via the "Special Unlocks" tab of the C-Store.
---