Oran
Timeline Change Imminent!

---

This article or section contains information that no longer applies to the current version of Star Trek Online. It is provided only for historical purposes.

Gul Oran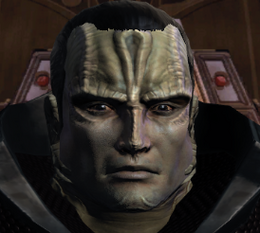 Gul Oran is a Cardassian officer serving the True Way. He will stop at nothing to restore Cardassia to its former glory in the days prior to the Dominion War, not only by joining the True Way but by seeking allies in the mirror universe.
Gul Oran commands the Praxeth.
"Tear of the Prophets": Gul Oran tries to steal the Bajoran Orb of Possibilities, in order to help start a Terran invasion of the prime universe. He is thwarted by the player, and the Praxeth is destroyed by the I.S.S. Liebig as punishment.