Neral
Timeline Change Imminent!

---

This article or section contains information that no longer applies to the current version of Star Trek Online. It is provided only for historical purposes.
Neral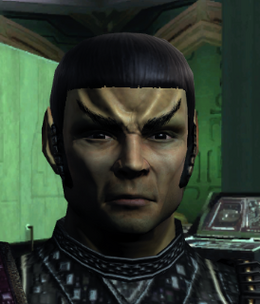 Military Rank:
Romulan Commander
Profession(s):
Information giver
Neral is Commander and commanding officer of the Romulan stations in the Hadrian System and the I.R.W. Makar.
Level
Standard Difficulty
Advanced Difficulty
Elite Difficulty
Shields
Health
Shields
Health
Shields
Health
27
812
2,599
"By Any Means": Commander Neral has to be subdued in order to question him about the Romulans' use of Borg technology. He manages to escape but is killed when the I.R.W. Makar is destroyed.