Mugato Companion
Mugato Companion
Rare Inventory
Bind On Pickup
Values do not reflect skills or other modifiers
Summon Mugato Companion
Value: 0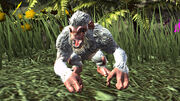 The [Mugato Companion] is a non-combat ground pet. It is a 800 day Veteran Reward, and is claimable from the Mugato Handler found on Deep Space Nine's Promenade deck.
The Mugato is a large ape-like carnivore. Native to the planet Neural, Mugato are covered in white fur and grow both horns on their heads and spines on their backs during adulthood.
This small Mugato is unarmed and will disappear the moment any combat begins.
To summon a ground pet, place the item in your inventory and right-click to use it. Alternatively, drag the item from Available skills list (default key "P") to your Power tray, from where you can launch it.
This item cannot be equipped in a device slot
You may only own one of these pets at a time, so if you already own one, you will be unable to unpack this item.
Starfleet and Klingon Empire officers may own a Mugato.
---
---