As part of the Unified Community Platform project, your wiki will be migrated to the new platform in the next few weeks. Read more here.
Mivek

Mivek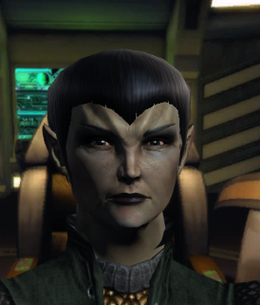 Military Rank:
Subcommander
Profession(s):
Mission giver
Subcommander Mivek is a female Romulan officer and member of D'Tan's Romulan Republic. She is the liaison for Starfleet and the Klingon Defense Force in the Tau Dewa Sector Block.
Before Empress Sela vanished, Mivek served with the

Romulan 6th Fleet

. Command structures fell apart after Sela's loss.
Subcommander Mivek is voiced by Lani Minella, a professional voice actor who also voices characters such Admiral T'nae, or Subcommander Nadel.