Mission: Working the Crowd

Working the Crowd
Rewards
1407

1213

In Working the Crowd the player meets members of the working class in Qo'noS' First City.
Nakar, a Lethean merchant in the First City, gives you the opportunity to meet three members of the Empire's working class: a Targ handler, a Loresinger and the Fight Pit Battle Master.
Hmmmph.
I'm not the only person doing honest day's work in the First City, <Name>. Go and meet the other merchants here.
Meet the Merchants of Qo'noS.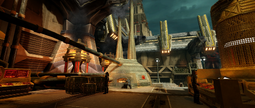 Create Friendships with the Working Class
Return to Nakar at the Forge
Nakar
T'mer
Fight Pit Battle Master
Loresinger Tiran