Mission: Off the Beaten Path

Off the Beaten Path
Rewards
1407

1213

You should familiarize yourself with the rest of Qo'noS, young warrior.
There are many here who it would be wise for you to know if you are to be a hero of the Empire.
Take of tour of Qo'noS.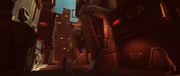 Uncover the Back Alleys of First City
Return to Garrad in the Western Slums
Garrad
I trust that your tour was... informative.

A word of warning, though. Rema talks a big game, but she's not as in control her corner of the city as she thinks. She's too cautious to be a real player here.

Sometimes you have to be willing to risk everything if you want to win.