Mission: New Romulus: Isha Forest Epohh Collection

Isha Forest Epohh Collection
Rewards
1300

1000

1–4

You will receive the following reward:
"We have to help the epohh, or else they will fall prey to the other predators on New Romulus."

— Toreth
Run around the Epohh Fields and collect [Active Epohh Tags] from the wild epohhs roaming around the area.
Are you familiar with the epohh?
They're small creatures who have somehow survived on this planet by hiding from predators.
However, our scans show their numbers are thinning all over the planet.
Can you help us tag the epohhs?
You can find them wandering the forest.
You'll only have one minute and thirty seconds to tag as many epohhs as you can.
You will receive the following rewards based on the number of epohhs collected:
0 epohhs: No Rewards
1 - 9 epohhs: 1 Romulan Mark, 1 Epohh Tag
10 - 19 epohhs: 2 Romulan Marks, 2 Epohh Tags
20 - 29 epohhs: 3 Romulan Marks, 3 Epohh Tags
30+ epohhs: 4 Romulan Marks, 4 Epohh Tags
Share the mission with other members of your team to collect more epohhs!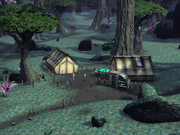 Tag as many epohh's as possible! (0)
Tagging the first epohh will start the timer!
| Icon | Name | Requirements | Points |
| --- | --- | --- | --- |
| | Epohh Whisperer | You were able to tag one hundred epohhs on New Romulus. | 10 |
This is best done in a group as all tags collected will go to each person.