Mission: Mirror Universe Incursion/Walkthrough
Timeline Change Imminent!

---

This article contains information that no longer applies to the current version of Star Trek Online. It is provided only for historical purposes.
Defeat the Terran Battle Groups
[
edit
|
edit source
]
This part is fairly straightforward - the players must work together to defeat all four battle groups (Alpha, Delta, Charlie, and Bravo). Each group consists of numerous cruisers, several frigates, a few fighters, and at least one battleship.
It is strongly advised that each group be engaged and destroyed one at a time. If more than one joins the battle they will be very difficult (though not necessarily impossible) to defeat.
Weaken the Terran Escort Group (optional)
[
edit
|
edit source
]
Roughly twenty kilometers from each battle group is a navigation beacon. To complete the optional, players must fly over to each one and upload a virus that will halt repair efforts for the Terran ships stuck in drydock. Sometimes, a Battle Group will attempt to recapture the beacon - you must either destroy them or lure then away to avoid failing the optional. This objective can be started and/or completed at any point in the mission.
NOTE: Completing the optional does not yield any additional rewards.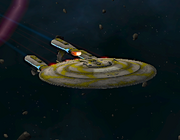 Once all four Battle Groups are destroyed, the I.S.S. Stadi - a Galaxy-class Deadnought Cruiser - will emerge from a trans-dimensional portal above the starbase. At the same time, the Terran ships in drydock (Battle Group Stadi) will reactivate and defend the Stadi. It is advised that players focus on these support ships before attacking the Stadi, as it can be difficult to defeat the Stadi while the other Terran ships are active.
Once the Stadi is destroyed, the mission is completed and a reward drop awaits you above the starbase. If any additional Terran ships are still present, you can fight them if desired.
Note: If playing this mission for the purpose of obtaining dilithium, it is advised that you not attempt the optional and instead work to quickly defeat all enemy ships near the starbase. It is possible to complete this mission in under 5 minutes, and with no cooldown you can replay it as many as 12 times/hour, which will land you 5760

.