Mir Fighter
Incomplete and/or missing data.


This article or section does not list all values or entries associated with the discussed subject. Please add any missing statistics or items to the corresponding tables, lists and placeholders.

Mir Fighter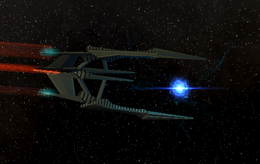 The Mir Fighter is a small Iconian vessel operated by their Heralds.
See: Hangar - Mir Fighters.
The Hangar pet version of the Mir Fighter can be unlocked exclusively for playable Herald vessels capable of launching hangar pets.
These craft can be deployed by Iaidon Dreadnoughts to aid them in combat, so the player can anticipate facing Mir Fighters when engaging an Iaidon Dreadnought.
Mir means torment in the Enochian language.