M'hetya

M'hetya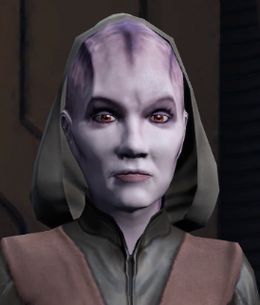 Profession(s):
Mission contact
Scientist
M'hetya is a Kobali female on Kobali Prime. She is a scientist who works in the Kobali temple near the Trenches.
"The Temple of my People": Players save M'hetya from the Vaadwaur when the temple is attacked. After tending to her injuries, she gives the player the code to open the door to the main chamber and implores them not to judge her people too harshly for what they've done.
"Our Chance for Peace": The player meets with M'hetya at the Kobali temple to speak with her about the remaining Vaadwaur stasis pods. M'hetya explains that the Kobali have decided not to use the remaining Vaadwaur for rebirth, but will simply maintain them instead until peace can be attained between the two species. She also explains that the temple will be used to store bodies from other races who permit them to use their dead for the rebirth practice.