Louann Wilkins

Louann Wilkins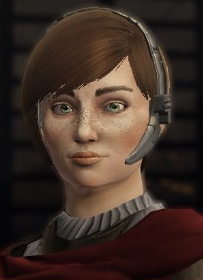 Profession(s):
Infiltration specialist
Louann Wilkins is an infiltration specialist serving on the O.S.S. Coldstar.
"Partisans": Adet'pa introduces the player and Martok to Captain Varh, Wilkins and Kinyah of the O.S.S. Coldstar who would be assisting them throughout their mission. Wilkins first aids in battling the ambush of J'mpok's and Madran's forces at the bar and in the arena respectively. She later follows the player to the Gorath System, where J'Ula has engaged more of J'mpok's forces, and beams down to the surface with them. Inside the arena, the player, Martok and J'Ula defend Wilkins against J'mpok's Imperial forces while she hacks the various computer codes. They are then confronted by Aakar and his forces, where Aakar flees while his forces are defeated. Finally, Wilkins beams aboard the I.K.S. Lukara to assist J'Ula in broadcasting the evidence while the player, Martok, Adet'pa and House Mo'Kai forces defend them from J'mpok's flagship, the I.K.S. Kri'stak, and his forces. Despite her efforts in helping to clear their names and everyone in the system learning the truth about J'mpok's attack on Khitomer, she watches the outcome in disappointment, as the various Klingon Houses lost trust in the Empire and returned to their own homes.
Wilkins' first name, Louann, was revealed through Lore blogs and is not stated in-game.
Wilkins is voiced by Adrienne Wilkinson, who played the role of Captain Lexxa Singh in the fan production Star Trek: Renegades.