List of canon starships
This article or section is in need of an update

---

Missing all the Disco ships, and there are a lot. I.e. the Discovery, Glenn, Shenzhou, Buran, Europa, Clarke, Edison, Shran, T'plana-hath, Yeager... Also, I am sure there are some canon Klingon and Romulan ships

Please help out STO Wiki by adding the necessary changes!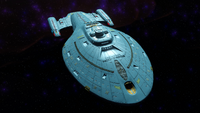 This article gives an overview over numerous starships from Star Trek canon which have appeared in Star Trek Online over the years.
Star Trek: The Original Series

[

edit

|

edit source

]
Star Trek: The Next Generation

[

edit

|

edit source

]
Star Trek: Deep Space Nine

[

edit

|

edit source

]
The U.S.S. Enterprise-C was an Ambassador class starship. The Enterprise was perhaps most famous for defending a Klingon colony in the Narendra System from Romulan attackers in 2344. The ship was destroyed during that incident, while several members of her crew were imprisoned.
Encounters
- "Temporal Ambassador"

On-Screen
- "TNG" (1 episode)

More about the Enterprise-C on Memory Alpha.
The U.S.S. Lakota is a refitted Excelsior class starship. In 2372 the Lakota and her crew took part in a failed coup d'état against the Federation president. In 2410 the ship is stationed in the Sol System.
Encounters
- Sol System

On-Screen
- "DS9" (2 episodes)

More about the Lakota on Memory Alpha.
Several starships spawn with the name and registry of their class protoype (i.e. the U.S.S. Centaur, U.S.S. Galaxy, or U.S.S. Intrepid). Since these ships can be destroyed whenever they are encountered, it is unlikely that they are meant to represent the actual vessels of the same name. As such, only appearances outside random encounters are listed on this page.
---