Linnea

Linnea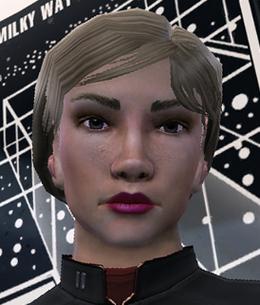 Military Rank:
Lieutenant
Lieutenant Linnea is a female Ocampa Starfleet officer and aide to Fleet Admiral Quinn on Earth Spacedock.
"New Episode: Sunrise": Admiral Quinn confers with Linnea. With the Iconian War now over, Quinn is concerned that recent graduates of Starfleet Academy, their training accelerated while the war was still ongoing, may be ill-equipped for Starfleet's return to missions of exploration and diplomacy.
Linnea was the first, and until the release of Delta Rising the only, Ocampa character in Star Trek Online.
With the revamp of Earth Spacedock and the introduction of the Odyssey uniforms with Seasons 9 and 9.5, Linnea's department colors changed from blue to red.
Species: Ocampa (pre-Season 9 screenshot).