Laraell

Laraell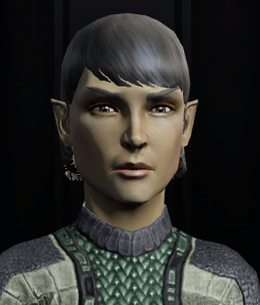 Profession(s):
Mission giver
Scientist
Doctor Laraell is a Romulan who can be found at the Atlai on New Romulus.
Laraell was born on a space station, and has no memories of Romulus. She is skeptical that the Romulan Republic government will be very different from that of the Romulan Star Empire.
Laraell is in charge of the scientists conducting studies in the area around the Atlai river, directing a total of four projects including tagging nanovs and collecting water samples.
"The Atlai": The player helps the scientists researching along the Atlai by tagging nanovs, collecting water samples, driving off insect swarms and investigating life-signs in riverside dens.