Kyla Mex

Kyla Mex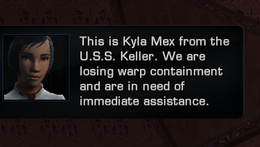 Captain Kyla Mex is a Trill Starfleet officer in command of the U.S.S. Keller.
"Broken Circle" : During Captain Kagran's all-out assault on the Herald Sphere, the Keller takes damage and begins losing warp containment. Captain Mex issues a distress call, calling for immediate assistance. Later on, she assists the player in clearing a path to a gateway, so that the player can confront the Iconian Command Ship.
"Midnight" : Captain Mex takes command of the U.S.S. Cleveland. During the Battle of Earth, Captain Mex reports that the Cleveland is suffering a reactor breach and requests assistance.