Kubus Pohl

Kubus Pohl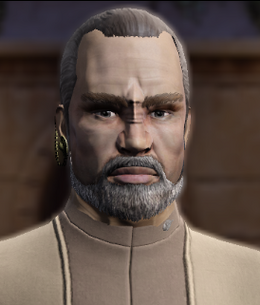 Profession(s):
Information giver
Kubus Pohl is a male Bajoran holding the rank of Colonel in the Bajoran Militia.
Kubus grew up in a refugee camp. In 2409, Kubus Pohl serves as a liaison between the Bajoran Militia and the Starfleet and Klingon Defense Force units in Hathon when Deep Space Nine is captured by Kar'ukan's forces, enlisting the aid of players from both factions in resolving logistical and political issues resulting from the presence of the respective military forces.
"Jabberwocky": In the Mirror Universe, a Bajoran checkpoint officer serving the Terran Empire on Hathon indicates that Kubus, a Commander, is responsible for security in the city, and that he believes Bajoran officers will be most effective at keeping the peace amongst the local population.
"Of Bajor": Kubus Pohl enlists the aid of Starfleet and KDF players to resolve various issues in the town of Hathon on Bajor.