Korak

For duty officer, see
Korak (Quartermaster)
.
Timeline Change Imminent!

---

This article contains information that no longer applies to the current version of Star Trek Online. It is provided only for historical purposes.

Korak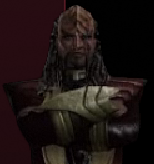 Profession(s):
Information giver
Commander Korak is a member of the Klingon Intelligence agency and provides you with information concerning the Factions in the Alpha and Beta Quadrants. His Starfleet counterpart is Commander Bradden.
The Jem'Hadar are interesting. They were on the losing side of the Dominion War, which no doubt infuriated them. I get the feeling they're not used to losing.
Most of them went back to the Gamma Quadrant with their Changeling masters, no doubt to lick their wounds. A few, though… a few stayed here. What I would have given to see the looks on the Changelings' faces when they realized that some of their perfect soldiers were rebelling against them! Heh. Not that Changelings have real faces; deceitful piles of slime that they are.
The Jem'Hadar, though. The ones that remained call themselves the Alphas. For Alpha Quadrant. Not a tremendously creative name, but what can you expect from a species created to be a servant race? They were never designed to be imaginative.
They fight well. They are fearless in battle, and clever. Almost honorable. But it is hard to respect such a species. They have no passion, no art! They fight not because they chose to, but because they were designed to. Still, those remaining in this quadrant are different from their predecessors. They had the imagination to turn against their masters and take their independence.
They serve as mercenaries now. Still fighting the battles of others. But they may yet prove to be a threat in their own right. They are like a cornered targ. It may seem that they're defeated, and no longer dangerous. In reality, they may be more dangerous than ever. They have nothing to lose, and much to gain. They will take risks that more established species may not.
The Jem'Hadar bear watching. With luck, they will become truly worthy opponents.
The Borg are a plague. Pasty white baktag, with their Collective. They have no bravery. Where there is no self, no burning desire to live, there is no courage. If you don't even know what fear is, then you cannot conquer it!
They also have no honor. The Borg may offer their hands in treaty, but never doubt they shall turn on you should it benefit them!
We have not seen the Borg in many, many years. But we do not delude ourselves. Never trust an enemy is gone until you have shattered his bones in the wreckage of his own home. Besides, I have heard things. Rumors, if you will, that they are infiltrating the Alpha Quadrant. They're cunning. Cunning and untrustworthy. If they are here, and I have no reason to believe they are not, it will be a grand fight to destroy them.
How can you fight an enemy who wears your own face? How can you guard against an enemy who greats you as a brother? How can you defeat an enemy who forces you to look with suspicion at all around you – your son, your mate, your leader?
They are clever. And they are relentless, these Undine. They have studied us well enough to know our ways and to know how best to hurt us. They have infiltrated the governments of many races, destroying alliances that should have been strong. It fills me with shame to admit that they have passed for Klingon so well that even I could not tell.
This is not the first time a shapechanging race has infiltrated the Alpha Quadrant. The Changelings did so once, but not so effectively as this. They did not research us the way these Undine have. They could not understand us because they so disdained "solids." But the Undine have no such blindness. They hate us. They wish us exterminated. But they suffer no false delusions.
Ja'rod, son of Lursa, captured the first of the Undine. It was his cleverness, and his bravery, that found this threat. We Klingons were the first to see it. And we were the first to fight.
The Undine have infiltrated every power in the Alpha Quadrant. We warned them all. The Federation, the Cardassians, even the Romulans. We have freed the Gorn and the Nausicaans. But the Federation refuses to listen and instead opposes us at every turn.
It falls to the honor of the Klingon Empire to eradicate this threat, and we shall no matter the cost.
The Cardassians are worthy opponents in battle. They are fierce warriors and fight with honor.
We fought, and defeated, them in the Dominion War. The Dominion suckered them, the poor qoHpu'. They had no chance once they allied with those honorless targs.
Now, the Cardassians are trying to rebuild their empire on a lifeless ball of rock. It would be a miracle if they succeeded, after the Dominion bombarded their planet at the end of the war. They rebelled against the Dominion at the end, which helped us. Distract the enemy, leave them open to attack! Yes, the Cardassians were useful. Misguided at times, but useful.
We shall see if they regain their military might, though I doubt it. I doubt it greatly. Their leading council now is far more concerned with agriculture and kowtowing to the Federation. Pah! Although rumor does say that Gul Madred is leading a potential military force known as the True Way. These next few years should be interesting for the Cardassians, if they don't die out first.
The only good thing about Romulans is their ale.
Romulans are pointy eared bastard Vulcans, except not as smart as Vulcans. But just as annoying. They count themselves warriors, but they aren't. They're rabid beasts. Sly, unreliable, willing to dine upon the corpses of their brothers to survive. Oh, not that Romulans are cannibals -- that I know of -- but they sacrifice each other's interests more easily than breathing.
The pack of them have been at each other's throats since the Federation killed off Praetor Shinzon -- who wasn't even a Romulan -- but I digress. The Praetor after him was murdered in her sleep. After her, there were three or four different factions warring for power. One of them even styled herself Empress, before she got herself killed in the supernova.
Those Romulan fools were so busy fighting each other, they didn't notice their planet getting blown up under their feet.
Oh, but we did. The Klingon Empire noticed. Like hounds, we could smell the blood slowly spilling out of the Romulan Empire. And we leapt to the hunt, tearing at their flank.
Of course the Federation tried to make peace between us. Pah! Foolishness. There can be no peace with the Romulans. They'll swear alliance with you and then slay your children as they lie in their beds, as they did on Khitomer. And then the traitorous scum will smile at you, as if nothing at all has happened. The Federation will learn soon enough, if they haven't already.
We're ready for them, though. And it will be a glorious day when we slay the Romulans, destroying their Empire and taking vengeance upon them for all of their betrayals.
United Federation of Planets
[
edit
|
edit source
]
They call themselves the United Federation of Planets. In reality, they're the United Federation of nosy, gossipy, meddlesome do-gooders! They claim everything they do is for the greater good, to promote "peaceful exploration." Never trust a species that claims to put the interests of others first. It means they're either selling something or trying to steal your bat'leth.
The Federation will boast about the vast number of planets and species they represent, but make no mistake, it is the Humans who control the Federation. The center of the Federation government is on the Human homeworld. For a wonder, the current President of the Federation is a Suarian[sic] and not a Human, but I doubt he does anything the Humans don't approve.
The Vulcans are the other great power within the Federation, and the Humans are absolutely in awe of the passionless bastards. The Andorians and Tellarites co-founded the Federation with the Vulcans and Humans, but their influence is not so great in comparison.
Starfleet – the military arm of the Federation – claims to observe a "Prime Directive" not to interfere with other species. But all they do is interfere. They involve themselves in conflicts that don't affect them, like our war with the Gorn or our battles with the Romulans. And what a mess they made between the Bajorans and the Cardassians! The Bajorans are calling for vengeance on all of Cardassia, and the Federation can't provide it. Somehow, even under Federation surveillance, the Cardassians managed to misplace every last "war criminal." And let us not forget it was the Federation that brought us the Borg!
The Federation has been a thorn in the side of the Klingon Empire for longer than I care to admit. But not for much longer, I suspect. Not for very much longer.
The Klingon Empire is perhaps one of the greatest empires ever to have existed, and I say this with all due modesty. Our warriors are fierce beyond measure, our musician and poets beyond compare. We are the stuff of legends, even if many of them are our own!
We have seen harsh times, though. Never doubt that the Klingon spirit has been tempered in the flames of adversity. We have fought against impossible odds time and again, and won through. We took tremendous losses in the Dominion War of the 2370s. But we survived and triumphed and drank blood wine in the wreckage of the Dominion headquarters. And though they will not admit it now, the Federation and the Romulans could not have survived without us. Bah! Cowards, both!
The Orions, ah, the Orions make properly grateful allies. We gave them a planet and our protection, and they gave us beautiful women to serve our great houses. The Gorn, as well, make decent allies, once we defeated them and took over their Hegemony. They swore allegiance to us, so we allowed them their own government. Never say the Klingon Empire is not generous.
The Nausicaans ally with us as well. They sense the coming battle. They know that the Klingon Empire cannot fail.
Chancellor J'mpok leads us into a new golden age for the Klingon Empire. While the Federation rambles ever on about peace and equality and diplomacy, and the Romulans plot and murder each other, and the Cardassians desperately try to salvage what little is left of their civilization, we shall take over the Quadrant.
This NPC could be found on the Star Trek Online homepage until the website was revamped.