As part of the Unified Community Platform project, your wiki will be migrated to the new platform in the next few weeks. Read more here.
Kelvani Belt

Kelvani Belt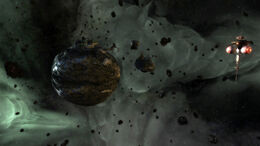 The Kelvani Belt is a system located in the Raveh Sector.
The Kelvani belt is the main source of income for off-world Deferi, and the metals and ores harvested there are being sold throughout the quadrant by Deferi and Ferengi brokers.
Surveys deeper into the belt have found several habitable worlds, and the Deferi are sending colony ships to these planets to start off-world colonies that are in balance with their surroundings.