Kel Nola

Kel Nola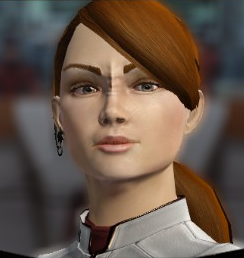 Captain Kel Nola is a female Bajoran Starfleet officer and captain of the U.S.S. Musashi in 2409.
"End of Watch": Kel Nola commands the U.S.S. Musashi in an ambush on the player's ship and the I.K.S. Seg'pa in a bid to liberate Franklin Drake.
"Your New Command": Captain Kel attempts to parlay with the player, offering to let them escape if they hand over Drake. The player refuses and engages the Musashi.
Depsite being a commanding officer, Captain Kel used to wear operations-yellow until the uniform revamp with Season 9.5.