Karak

Karak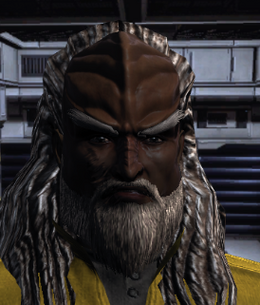 Military Rank:
Dahar Master
Karak (Inmate 53160) is a male Klingon and Class II prisoner of Federation maximum security detention center Facility 4028. His sentence is pending as of 2409.
Karak was given the title of Dahar Master by Chancellor Martok.
He was the Captain of the I.K.S. Hakra, and affiliated with the House of Torg.
Karak was captured by Starfleet on stardate 86640.4, and held at Starbase 157 for processing.
When assigned to isolation, he went on a 32-day hunger strike until he was reassigned to general population.
Karak was transferred to Penal Colony 47, where he led three prisoner uprisings that killed six people.
He was then transferred to Facility 4028 to await prisoner exchange or trial.
"Facility 4028" (KDF): Karak has requested to meet someone from the Empire, mainly to see if anyone still cares about him. During a prison riot, he declines to take part in the fighting, seeing it as pointless and futile. Once the riot is over, he returns to his cell peacefully.