Kahless

Kahless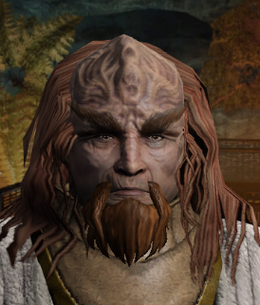 Kahless is a clone of the legendary Kahless the Unforgettable, who was the first emperor of Qo'noS. Though executive power within the Klingon Empire rests with the high council and Chancellor J'mpok, Emperor Kahless is considered the ceremonial head of state.
Kahless was cloned in 2369 by clerics of the monastery on Boreth, who wished to fulfill a prophecy of the return of Kahless the Unforgettable. After the clerics' fraud was discovered, Kahless was still allowed to become Emperor of the Klingon Empire, a largely inspirational and ceremonial position.
Late in 2403, Kahless handpicked a crew from the Order of the Bat'leth and departed on the I.K.S. Batlh. Kahless left a message behind saying that the Klingons no longer need his guidance, so he was departing to look for new battles to fight. Kahless promised to return when he was most needed.
By 2408 Emperor Kahless sought a quest to prove himself to the Klingon people, rather than living in the shadow of Kahless the Unforgettable. Worf, believing his sincerity, revealed the last known location of the Sword of Kahless to him and Kahless successfully retrieved it and returned to Qo'noS. ( "Destiny")
"Gateway to Gre'thor" (blog): Kahless addresses all warriors of the Klingon Empire and its allies in the aftermath of an Iconian attack on Qo'noS.
Bat'leth Impale
Bat'leth Takedown
Level
Standard Difficulty
Advanced Difficulty
Elite Difficulty
Shields
Health
Shields
Health
Shields
Health
31
874
2,796
-
-
-
-
The model of Kahless after its revamp for Season 8
Molor, Kahless' arch-enemy.
---