Kadek

Kadek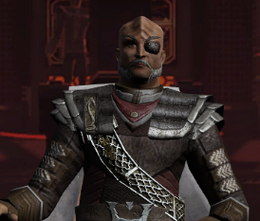 Captain Kadek is a Klingon officer in command of the I.K.S. Chot.
"Training Cruise": Captain Kadek attacks the player's ship and captures Captain Taggart. Kadek kills Taggart when he refuses to order the player to surrender. The player is able to locate Kadek's cloaked ship by locking on to Taggart's comm badge, and the ship is heavily damaged in the subsequent attack, forcing Kadek to re-cloak to make repairs.
"Field Promotions": Kadek's ship is destroyed by the player, with the assistance of Captain Nog of the U.S.S. Chimera.