K'teng

K'teng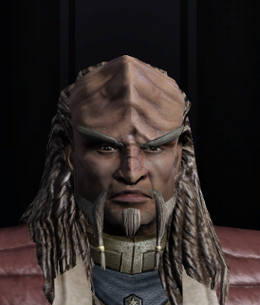 Profession(s):
Information giver
Captain K'teng is a Klingon captain whose Bird of Prey was on a reconnaissance mission to survey the Tal Shiar when it was shot down by Hirogen at Orith.
"Alpha": Captain K'teng is found at the crash site of the bird-of-prey that he commanded. After the crash, the Hirogen continually hunted his crew, killing over a dozen warriors. While the player tracks down a Romulan prisoner, K'teng is left fighting a group of Hirogen hunters. To defeat them, he detonates the warp core of his bird-of-prey. Initially thought dead, he is discovered alive at the transport site.
"Targets of Opportunity": K'teng asks the player to join him in an attack on Voth forces which have been separated from their main forces in the Contested Zone of the Solanae Dyson Sphere.