K'Vena
Timeline Change Imminent!

---

This article contains information that no longer applies to the current version of Star Trek Online. It is provided only for historical purposes.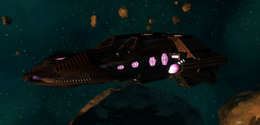 The K'Vena is a Kobali cruiser.
"Nassordin System Patrol": The player receives a distress call from the K'Vena's captain. The vessel has been disabled by Vaadwaur ships, and he warns that the Vaadwaur had said they would return.