K'Gan

K'Gan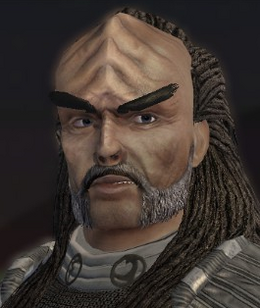 Military Rank:
Lieutenant
Profession(s):
Bridge Officer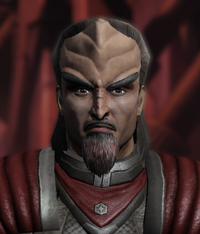 Lieutenant K'Gan, son of Ker, is the third officer of the tutorial starship for players of the Klingon Empire. Later, he becomes the player's first bridge officer.
"End of Watch": Third Officer Lieutenant K'Gan relieves the player at the end of a shift on the bridge and recommends his new weapon exercise holo-program.
"Challenge for Command": After the ship is ambushed by the U.S.S. Musashi, the player defeats Captain Jurlek, who himself previously killed First Officer Doran. This also elevates K'Gan to second in command who joins the crew as Weapons and First Officer.
"Your New Command": K'Gan mentions that he is unable to locate the I.K.S. Seg'pa, either because the "Feds" destroyed her, or because she is cloaked. In order to replenish the ships'

iridium

stores needed for immediate repairs, he then instructs the player to collect some from several nearby asteroids.