Jackal Mastiff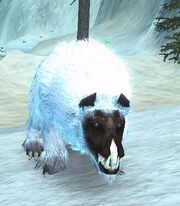 Jackal Mastiffs are mammalian predatory animals found in arctic areas.
Jackal Mastiffs live in icy caves, arctic habitats and winter landscapes. So far, Mastiffs are known to occur on Rura Penthe, Dera IV and Q's Winter Wonderland. Clad in white fur these predatory critters are well-camouflaged in snowy environments.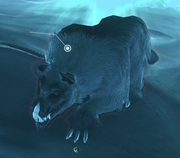 Jackal Mastiffs appear to live in packs and may not shy away from attacking humanoids. They are characterized by their white furry coat and the large tooth extending from their nose. Jackal Mastiffs attack by biting their prey. In Q's Winter Wonderland, however, the Snow Mastiffs ignore humanoids altogether unless they participate in the ice race.
The face, ears and sharply-clawed feet are not covered by fur, therefore revealing the brown skin of the Mastiffs. Their eyes are grey. Body structure and size are reminiscent of a Terran dog. The most striking feature and visual distinction to dogs are the large teeth. A curved tooth extends downwards from the split "nose". The hackles of Snow Mastiffs are more pronounced than on the Adult Mastiffs.
| Level | Standard Difficulty | Advanced Difficulty | Elite Difficulty |
| --- | --- | --- | --- |
| 31 | 349 | - | - |
| Level | Standard Difficulty | Advanced Difficulty | Elite Difficulty |
| --- | --- | --- | --- |
| 29 | 814 | - | - |
| Level | Standard Difficulty | Advanced Difficulty | Elite Difficulty |
| --- | --- | --- | --- |
| 29 | 977 | - | - |
---
---
---