J'mpok

J'mpok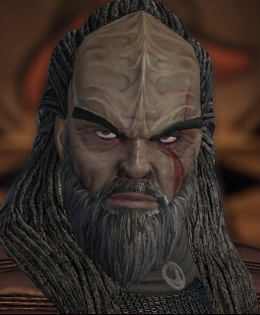 Military Rank:
Chancellor
Profession(s):
Mission giver
Mission contact
J'mpok of the House of J'mpok is a Klingon politician and member of the Klingon High Council, who became Chancellor in 2393 after slaying Martok under questionable circumstances in ritual combat. The House of Torg openly supports him.
J'mpok is located inside of the Great Hall of Qo'noS in the First City.
In 2388, J'mpok led hardliners on the Klingon High Council that believed the Federation and Romulans should pay for the destruction of the Klingon fleet that was sent to stop Nero.
In 2391, J'mpok gathered together ship captains loyal to his house into one fleet after Chancellor Martok refused to entertain J'mpok's idea to fight the Federation and Romulans. The fleet invaded the Zeta Pictoris System and fought against a Romulan fleet, causing a split in the High Council.
In 2392, the Klingon High Council hardliners led by J'mpok demanded an invasion of Gorn space, and Martok, refusing to give in to their demands, continuously rejected them. In 2393, while meeting at the Great Hall, J'mpok slew Martok and assumed control of the Empire. The support for J'mpok's agenda concerned Federation political analysts, who expected things to come to a head by 2395. Under J'mpok's leadership, the Klingons invaded Gorn space and brought its people under the banner of the Empire. In 2399, when the Federation Council condemned the invasion of Gorn space, J'mpok withdrew the Klingon Empire from the Khitomer Accords, beginning a new war between the Federation and the Klingon Empire.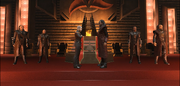 Missions formerly involved
[
edit
|
edit source
]
"qa'wI' 'oy'Hey": Martok confronts Chancellor J'mpok on his refusal to commit the Empire to combating the threat of the newly-emerged Hur'q. J'mpok reminds Martok of the heavy price the Empire has paid for joining the Alliance against other major threats to the galaxy such as the Undine and Iconians. Martok however believes he is acting dishonorably and seems ready to challenge him for his cowardice, but is placated when J'mpok authorizes Martok to organize and lead a volunteer force to engage the Hur'q.
"Hoch 'ebmey tljon": During the events of "The Khitomer Discord", Chancellor J'mpok faces a difficult choice when he meets a potential new ally.