Intrepid Legendary Miracle Worker Multi-Mission Science Vessel

Intrepid Legendary Miracle Worker Multi-Mission Science Vessel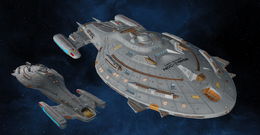 Multi-Mission Science Vessel
Hull:

| | |
| --- | --- |
| Lvl 50: | 43125 |
| Lvl 55: | 46563 |
| Lvl 60: | 50000 |
| Lvl 65: | 56250 |
Intrepid-class
 ~Long Range Science Vessel Variants
The Intrepid-class Legendary Miracle Worker Multi-Mission Science Vessel is a Tier 6 Multi-Mission Science Vessel which may be flown by Starfleet characters, including Federation-aligned Romulan Republic and Dominion characters. This starship can be used from any level upon completion of the tutorial experience. As you level up, this ship gains additional hull, weapon slots, and console slots.
Players can obtain this starship from the Zen Store as part of the 10th Anniversary Legendary Starship Bundles: Standard bundle for 30,000

, or as part of the Premium bundle for 45,000

.
The Legendary Miracle Worker Multi-Mission Science Vessel is equipped to explore the far reaches of the unknown and make it back home again. Designed using lessons learned from the U.S.S. Voyager's trek across the Delta Quadrant under Captain Kathryn Janeway and Chief Engineer B'Elanna Torres, the Legendary Miracle Worker Multi-Mission Science Vessel features Innovation Mechanics, an Ablative Generator, a Photonic Shockwave Torpedo, Aeroshuttle, a hangar bay stocked with Delta Flyers, and it can equip dual cannons. All of these capabilities ensure that the Legendary Miracle Multi-Mission Science Vessel has what it needs to meet any challenges it may face, near or far from home.
Class
Information

Intrepid class

SKIN UNLOCK: Free

---

The Intrepid class was the most technologically advanced ship of its kind in 2371. The design was considered a success and paved the way for many other Federation ships designs after U.S.S. Voyager experienced a seven year stint in the Delta Quadrant without a single visit to a Federation Starbase.

Warship Voyager variant

SKIN UNLOCK: Free with this starship

---

Seen in the Star Trek: Voyager episode "

Living Witness

," the Warship Voyager represents an alien species' recollection of the Voyager as viewed through a lens of resentment and fear, armed to the teeth and spoiling for a fight.

Cochrane class

SKIN UNLOCK: Free

---

This rugged design was named after the Starfleet grandfather and Human inventor of Warp Drive Dr.

Zefram Cochrane

. While not the first craft to don his name, this class meets the standards and set forth as the toughest of Intrepid-based designs. The saucer is longer, the hull is shorter and nacelles are also hefty. Utopia Planitia designers made adjustments so that it could be even more self sufficient outside of Federation borders.

Discovery class

SKIN UNLOCK: Free

---

After creating the successful Intrepid class, the Utopia Planitia designers decided to update the design. Thus in the year 2400, Discovery was born. It was designed to be just as capable as Cochrane and Intrepid and even more advanced. A brand new nacelle design and highly experimental pylon fins were aimed at creating a more efficient and stable flight during warp travel when nacelles were in the upward position.

Bellerophon class

SKIN UNLOCK: Free with this starship

---

The Bellerophon class is based on the iconic Intrepid class, but with a more advanced design. The Bellerophon class has a unique half-moon shaped main deflector and distinctive blue bussard collectors, as well as the whiter hull color found in 25th century starship designs.

Pathfinder class

SKIN UNLOCK: Free with this starship

---

When planning for Operation Delta Rising began, the Starfleet Corps of Engineers decided that an updated version of the Intrepid class was necessary. Most of the technologies used in the Pathfinder class were tested aboard USS Voyager before it departed for the Delta Quadrant in 2410. With the approval of Rear Admiral Tuvok, the class entered full production.
Starship Mastery
SCIENCE VESSEL
Level
Name
Description
I
Enhanced Particle Generators
+15% Damage to Exotic Damage abilities.
II
Advanced Shield Systems
+10% Shield Hitpoints.
III
Enhanced Restorative Circuitry
Improves Hull healing abilities by 10%.
Improves Shield healing abilities by 10%.
IV
Reactive Shield Technology
5% Shield Regeneration every 6 seconds.
Reduces Damage to Shields by 5%.
V
Ablative Field Projector
Your shield healing bridge officer abilities provide a small amount of Temporary Hit Points on the target. This buff stacks up to 3 times.
VI
Extensively Modified Warp Core
Improves Flight Speed and Turn Speed during Full Impulse and Quantum Slipstream. Bonus lingers for a moderate duration after Full Impulse ends.

---

Once unlocked on one character, this trait is unlocked account-wide.
The Intrepid Legendary Miracle Worker Multi-Mission Science Vessel comes equipped with a [Console - Universal - Aero Shuttle Bay], [Console - Universal - Ablative Generator] and [Console - Universal - Nadeon Detonator]
The Intrepid Legendary Miracle Worker Multi-Mission Science Vessel comes equipped with one wing of Delta Flyers.
Innovation Effects
The Intrepid Legendary Miracle Worker Multi-Mission Science Vessel features built-in Innovation mechanic which requires activation of three bridge officer abilities corresponding to colors on the Innovation display window. Successfully matching the colors will automatically trigger the available Innovation effect for 10 seconds. One of six possible Innovation effects will be randomly selected each time the Innovation mechanic refreshes.
Instinctive Rerouting (Bonus to All Subsystem Power)
Containment Layering (Temporary Hull based on Max Hull)
Heisenberg Decoupling (Secondary Shields based on Max Shields)
Plasma Conduit Purge (Self-Targeted AOE Plasma Damage-over-Time)
Ingenious Solutions (Bonus to Recharge Speeds for Bridge Officer and Captain Abilities)
Barclay Maneuver (Photonic Copy of your starship which uses Ramming Speed on a nearby foe)
Sensor Analysis is an active toggle ability. While maintaining a Sensor Lock on a target, the player gains a stacking effect that either improves the damage and power drain against an enemy, or improves any heal directed towards an ally. This effect stacks every 3 seconds, to a maximum of 6 stacks after 18 continuous seconds. To maintain the desired effect, the player must hold the sensor lock.
Specialization seating
The Intrepid-class Legendary Miracle Worker Multi-Mission Science Vessel features the following specialist seats:

The Intrepid Legendary Miracle Worker Multi-Mission Science Vessel comes with built-in Subsystem Targeting abilities. These built-in abilities stay at Rank I and do not automatically rank up when acquiring higher tier Science starships. They are separate from Subsystem Targeting abilities gained through Tactical Space Bridge officer abilities.
Activating a subsystem targeting ability will upgrade all energy weapons to inflict a stacking power drain on the foe's targeted subsystem for the next 10 seconds. They will also have a small chance to knock the targeted subsystem offline for a short duration.
Federation starships come with standard equipment and weapons of the lowest mark available at the ship's minimum rank. The items provided are appropriate to the type of vessel and its related playing style.
Scaling starship
This starship's equipment slots, base hull capacity and shield capacity scale as your level increases.
Equipment slots and seating
[
edit source
]
As you rank up every 10 levels, up to level 40, the ship's forward weapon slots, aft weapon slots, tactical console slots, engineering console slots, science console slots and available bridge officer (boff) abilities will slowly increase toward endgame capabilities:
Level
Boff seats
0-9
0
2
3
2
2
    
10-19
1
2
3
2
2
    
20-29
1
3
4
2
3
    
30-39
2
3
4
3
3
    
40+
2
4
5
This starship's universal console slot is available immediately.
This table shows how the ship's hull strength scales at each level. The base hull of all scaling starships is 10,000, which is then multiplied by the ship's hull modifier (1.25 for the Intrepid Legendary Miracle Worker Multi-Mission Science Vessel), and then multiplied by the scaling multiplier below at each level.
Hull scaling table
Level
Multiplier
Hull HP
Level
Multiplier
Hull HP
Level
Multiplier
Hull HP
Level
Multiplier
Hull HP
0
1
12500
20
2
25000
40
3
37500
60
4
50000
1
1.05
13125
21
2.05
25625
41
3.05
38125
61
4.1
51250
2
1.1
13750
22
2.1
26250
42
3.1
38750
62
4.2
52500
3
1.15
14375
23
2.15
26875
43
3.15
39375
63
4.3
53750
4
1.2
15000
24
2.2
27500
44
3.2
40000
64
4.4
55000
5
1.25
15625
25
2.25
28125
45
3.25
40625
65
4.5
56250
6
1.3
16250
26
2.3
28750
46
3.3
41250
7
1.35
16875
27
2.35
29375
47
3.35
41875
8
1.4
17500
28
2.4
30000
48
3.4
42500
9
1.45
18125
29
2.45
30625
49
3.45
43125
10
1.5
18750
30
2.5
31250
50
3.45
43125
11
1.55
19375
31
2.55
31875
51
3.505
43813
12
1.6
20000
32
2.6
32500
52
3.56
44500
13
1.65
20625
33
2.65
33125
53
3.615
45188
14
1.7
21250
34
2.7
33750
54
3.67
45875
15
1.75
21875
35
2.75
34375
55
3.725
46563
16
1.8
22500
36
2.8
35000
56
3.78
47250
17
1.85
23125
37
2.85
35625
57
3.835
47938
18
1.9
23750
38
2.9
36250
58
3.89
48625
19
1.95
24375
39
2.95
36875
59
3.945
49313
Admiralty Ship
35
20
62
+10 Eng per SciShip
Starfleet: (Complete & Detailed List)  
Small Craft
Shuttles
Federation Shuttlecraft • Aeon Timeship • Class F Shuttle • Delta Class Shuttle • Tal'Kyr Support Craft • Type 7 Shuttle • Type 8 Shuttle • Type 10 Shuttle
Runabouts
Captain's Yacht • Danube Runabout • Mirror Danube Runabout (Promotional) • Yellowstone Runabout
Fighters
Peregrine Attack Fighter • Stalker Stealth Fighter
Tier 1 - 4 ships
Rank
Tier 1
Tier 2
Tier 3
Tier 4
Cruisers
• Starter Ship
  - Miranda Light Cruiser
  - Malachowski Light Cruiser
  - Pioneer Utility Cruiser
• Constitution Light Cruiser
• Constitution Cruiser
  - Exeter Cruiser Refit
• Ambassador Support Cruiser
• Cheyenne Heavy Cruiser
  - Constellation Heavy Cruiser Refit
• Excelsior Advanced Heavy Cruiser
• Galaxy Exploration Cruiser
  - Venture Exploration Cruiser Refit
• Gemini Temporal Cruiser
• Prototype Walker Light Exploration Cruiser
Escorts
• Andorian Kumari Light Escort
• NX Light Escort
• Steamrunner Blockade Runner Escort
• Saber Escort
  - Gladius Escort Refit
• Akira Heavy Escort
  - Thunderchild Heavy Escort Refit
• Perseus Temporal Escort
• Defiant Tactical Escort
  - Sao Paulo Tactical Escort Refit
Freighters
• Kobayashi Maru Freighter
Science Vessels
• Oberth Light Science Vessel
• Daedalus Temporal Science Vessel
• Nova Science Vessel
  - Rhode Island Science Vessel Refit
• Nebula Advanced Research Vessel
• Olympic Research Science Vessel
• Intrepid Long Range Science Vessel
  - Bellerophon Long Range Science Vessel Refit
Tier 5 ships
Rank

Tier 5 (Lvl. 40)

Tier 5 (Lvl. 50)
Battle Cruisers
• Ranger Temporal Battlecruiser
• Avenger Battlecruiser
  - Fleet Avenger Battlecruiser
Cruisers
• Ambassador Support Cruiser Retrofit
• Emissary Star Cruiser
  - Mirror Sovereign Star Cruiser
• Excelsior Advanced Heavy Cruiser Retrofit
• Sovereign Assault Cruiser
  - Mirror Emissary Assault Cruiser

---

• Mirror Cheyenne Heavy Cruiser Retrofit
• Fleet Yamaguchi Support Cruiser Retrofit
• Fleet Nomad Star Cruiser
• Fleet Excelsior Advanced Heavy Cruiser Retrofit
• Regent Assault Cruiser Refit
  - Fleet Imperial Assault Cruiser Refit
• Cheyenne Heavy Cruiser Retrofit
  - Fleet Cheyenne Heavy Cruiser Retrofit
• Galaxy Exploration Cruiser Retrofit
  - Fleet Galaxy Exploration Cruiser Retrofit
• Odyssey Star Cruiser
• Odyssey Star Cruisers:
  - Odyssey Operations Cruiser
  - Odyssey Science Cruiser
  - Odyssey Tactical Cruiser
Destroyers & Science Destroyers
• Chimera Heavy Destroyer

---

• Mobius Temporal Destroyer (Retired)
• Solanae Dyson Science Destroyer
• Fleet Chimera Heavy Destroyer
• Advanced Dyson Science Destroyers:
  - Montgomery Dyson Reconnaissance Science Destroyer
  - Omega Dyson Strategic Science Destroyer
  - Helios Dyson Surveillance Science Destroyer
Escorts
• Hermes Patrol Escort
  - Mirror Phoenix Patrol Escort
• Prometheus Advanced Escort
  - Mirror Dervish Advanced Escort

---

• Mirror Saber Escort Retrofit
• Tempest Patrol Escort Refit
  - Fleet Maelstrom Patrol Escort (Retired)
  - Fleet Maelstrom Patrol Escort Refit
• Prometheus Multi-Vector Advanced Escort
  - Fleet Hephaestus Advanced Escort
• Andorian Escorts:
  - Andorian Kumari Escort (Tactical)
  - Andorian Charal Escort (Engineering)
  - Andorian Khyzon Escort (Science)
• Aquarius Light Escort
  - Fleet Aquarius Light Escort
• Defiant Tactical Escort Retrofit
  - Fleet Defiant Tactical Escort Retrofit
• Saber Escort Retrofit
  - Fleet Saber Escort Retrofit
• Steamrunner Blockade Runner Escort Retrofit
Science Vessels
• Luna Reconnaissance Science Vessel
  - Mirror Trident Reconnaissance Science Vessel
• Nebula Advanced Research Vessel Retrofit
• Trident Deep Space Science Vessel
  - Mirror Luna Deep Space Science Vessel
• D'Kyr Science Vessel

---

• Wells Temporal Science Vessel (Retired)
• Mirror Nova Science Vessel Retrofit
• Fleet Comet Reconnaissance Science Vessel
• Fleet Nebula Advanced Research Vessel Retrofit
• Fleet Nimbus Deep Space Science Vessel
• Intrepid Long Range Science Vessel Retrofit
  - Fleet Intrepid Long Range Science Vessel Retrofit
• Multi-Mission Explorers:
  - Aventine Multi-Mission Reconnaissance Explorer
  - Rademaker Multi-Mission Strategic Explorer
  - Vesta Multi-Mission Surveillance Explorer
• Nova Science Vessel Retrofit
  - Fleet Nova Science Vessel Retrofit
• Olympic Research Science Vessel Retrofit
  - Fleet Olympic Research Science Vessel Retrofit
Carriers
 
• Caitian Atrox Carrier
  - Fleet Caitian Atrox Carrier
Dreadnought Cruisers
 
• Galaxy Dreadnought Cruiser
  - Fleet Galaxy Dreadnought Cruiser
Strike Wing Escorts
 
• Armitage Heavy Strike Wing Escort
  - Fleet Akira Heavy Strike Wing Escort
Tier 6 ships
Rank
(Lvl. Scaling)
Tier 6 ( unless otherwise noted)
(Lvl. Scaling)
Tier 6 (Fleet+)
Battle Cruisers
• Arbiter Battlecruiser
• Eclipse Intel Cruiser
• Europa Heavy Battlecruiser
• Gagarin Miracle Worker Battlecruiser
• Paladin Temporal Battlecruiser
• Fleet Avenger Battlecruiser (T6)
• Fleet Eclipse Intel Cruiser
• Fleet Nimitz Heavy Battlecruiser
• Fleet Shepard Miracle Worker Battlecruiser
• Fleet Paladin Temporal Battlecruiser

---

• Inquiry Battlecruiser
• 10th Anniversary Legendary Starships (T6):
  - Kelvin Constitution Intel Battlecruiser
• Command Battlecruisers (T6):
  - Concorde Operations Command Battlecruiser
  - Geneva Science Command Battlecruiser
  - Presidio Tactical Command Battlecruiser
• Section 31 Command Heavy Battlecruiser
Carriers & Flight Deck Carriers
• Caitian Aspero Support Carrier
• Jupiter Carrier
• Tellarite Pralim Flight Deck Assault Carrier
• Fleet Caitian Atrox Carrier (T6)
• Fleet Jupiter Carrier
• Fleet Tellarite Pralim Flight Deck Assault Carrier

---

• 10th Anniversary Legendary Starships (T6):
  - Constitution Temporal Flight Deck Carrier
• Constitution Miracle Worker Flight Deck Carrier
Cruisers
• Andromeda Exploration Cruiser
• Archon Intel Assault Cruiser
• Guardian Cruiser
• Narendra Support Cruiser
• Reliant Advanced Light Cruiser
• Resolute Advanced Heavy Cruiser
• Sagittarius Temporal Cruiser
• Vizier Command Assault Cruiser

---

• Mirror Guardian Cruiser (Promotional)
• Fleet Galaxy Exploration Cruiser
• Fleet Imperial Intel Assault Cruiser
• Fleet Guardian Cruiser
• Fleet Yamaguchi Support Cruiser
• Fleet Soyuz Advanced Light Cruiser
• Fleet Excelsior Advanced Heavy Cruiser
• Fleet Sagittarius Temporal Cruiser
• Fleet Vizier Command Assault Cruiser

---

• 10th Anniversary Legendary Starships (T6):
  - Constitution Miracle Worker Light Cruiser
  - Ross Command Exploration Cruiser
  - Sovereign Miracle Worker Assault Cruiser
• Flagship Star Cruisers (T6):
  - Sojourner Operations Star Cruiser
  - Yorktown Science Star Cruiser
  - Endeavour Tactical Star Cruiser
• Miracle Worker Cruisers (T6):
  - Scott Operations Miracle Worker Cruiser
  - Daystrom Science Miracle Worker Cruiser
  - Tucker Tactical Miracle Worker Cruiser
• Constitution Temporal Light Cruiser
• Kelvin Constitution Heavy Command Cruiser
• Walker Light Exploration Cruiser
Destroyers & Science Destroyers
• Manticore Heavy Destroyer
• Lafayette Recon Destroyer
• Fleet Manticore Heavy Destroyer
• Fleet New Orleans Recon Destroyer

---

• Klein Temporal Destroyer /
• Kelvin Einstein Heavy Destroyer
• Mirror Crossfield Science Destroyer
• Section 31 Intel Science Destroyer
Dreadnought Cruisers
• Buran Command Dreadnought Cruiser
• Yamato Dreadnought Cruiser
• Fleet Cardenas Command Dreadnought Cruiser
• Fleet Galaxy Dreadnought Cruiser (T6)

---

• 10th Anniversary Legendary Starships (T6):
  - Verity Command Dreadnought Cruiser
• Atlas Prototype Dreadnought Cruiser
• Kelvin Vengeance Intel Dreadnought Cruiser
• Universe Temporal Heavy Dreadnought Cruiser
Escorts
• Caitian Shikaris Escort
• Hestia Advanced Escort
• Phantom Intel Escort
• Shran Light Pilot Escort
• Theseus Temporal Escort
• Valiant Tactical Escort
• Fleet Caitian Shikaris Escort
• Fleet Hephaestus Advanced Escort (T6)
• Fleet Phantom Intel Escort
• Fleet Magee Light Pilot Escort
• Fleet Theseus Temporal Escort
• Fleet Defiant Tactical Escort

---

• 10th Anniversary Legendary Starships (T6):
  - Columbia Temporal Operative Escort
• Andorian Allied Pilot Escorts (T6)
  - Andorian Kuthar Pilot Escort (Engineering)
  - Andorian Chimesh Pilot Escort (Science)
  - Andorian Thozyn Pilot Escort (Tactical)
• Pilot Escorts (T6)
  - Ajax Engineering Pilot Escort
  - Icarus Science Pilot Escort
  - Mercury Tactical Pilot Escort
• NX Escort Refit
Science Vessels
• Dauntless Experimental Science Vessel
• Nautilus Temporal Science Vessel
• Pathfinder Long Range Science Vessel
• Scryer Intel Science Vessel
• Somerville Intel Science Vessel
• Sutherland Advanced Research Vessel
• Fleet Dauntless Experimental Science Vessel
• Fleet Nautilus Temporal Science Vessel
• Fleet Intrepid Long Range Science Vessel
• Fleet Scryer Intel Science Vessel
• Fleet Hernandez Intel Science Vessel
• Fleet Magellan Advanced Research Vessel

---

• 10th Anniversary Legendary Starships (T6):
  - Glenn Temporal Science Vessel
  - Intrepid Miracle Worker Multi-Mission Science Vessel
• Multi-Mission Explorers (T6):
  - Palatine Multi-Mission Reconnaissance Explorer
  - Esquiline Multi-Mission Strategic Explorer
  - Brigid Multi-Mission Surveillance Explorer
• Verne Temporal Science Vessel /
• Crossfield Science Spearhead
Strike Wing Escorts
• Alita Heavy Strike Wing Escort
• Earhart Strike Wing Escort
• Fleet Akira Heavy Strike Wing Escort (T6)
• Fleet Engle Strike Wing Escort

---

• Mirror Engle Strike Wing Escort
Warships
• Edison Temporal Warship
• Fleet Hoover Temporal Warship

---

• 10th Anniversary Legendary Starships (T6):
  - Defiant Pilot Warship
Frigates
 
• Freedom Exploration Frigate
Klingon Defense Force: (Complete & Detailed List)  
DujHod Chariot • Kivra Shuttle • Rozhenko Timeship • To'Duj Fighter • Toron Shuttle
Tier 1 - 4 ships
Rank
Tier 1
Tier 2
Tier 3
Tier 4
Freighters
• Tong'Duj Freighter
Raiders
• B'rel Bird-of-Prey
  - B'Rotlh Bird-of-Prey
• QulDun Bird-of-Prey
  - Qaw'Dun Bird-of-Prey
• Norgh Bird-of-Prey
  - Ning'tao Bird-of-Prey
• Ki'tang Bird-of-Prey
  - Ch'Tang Bird-of-Prey
Battle Cruisers
 
• K'Tanco Battlecruiser
• K't'inga Battlecruiser
  - Koro't'inga Battlecruiser
• Kamarag Battlecruiser
• Vor'cha Battlecruiser
  - Vor'Kang Battlecruiser
Raptors
 
• Somraw Raptor
• Qorgh Raptor
  - SuQob Raptor
• Pach Raptor
  - Puyjaq Raptor
Destroyers
 
 
• Nausicaan Scourge Destroyer
• Nausicaan Vandal Destroyer
Flight Deck Carriers
 
 
• Orion Corsair Flight Deck Carrier
• Orion Dacoit Flight Deck Carrier
Support Vessels
 
 
• Gorn Phalanx Science Vessel
• Gorn Draguas Support Vessel
Tier 5 ships
Rank

Tier 5 (Lvl. 40)

Tier 5 (Lvl. 50)
Battle Cruisers
• Kamarag Battlecruiser Retrofit
• Negh'Var Heavy Battlecruiser
  - Mirror Negh'Var Heavy Battlecruiser
• Vor'cha Battlecruiser Retrofit
  - Mirror Vor'cha Battlecruiser
• Fleet Kamarag Battlecruiser Retrofit
• Fleet Negh'Var Heavy Battlecruiser
• Fleet Tor'Kaht Battlecruiser Retrofit
• Bortas Heavy Battlecruiser
• Bortasqu' Cruisers:
  - Bortasqu' Command Cruiser
  - Bortasqu' Tactical Cruiser
  - Bortasqu' War Cruiser
• K't'inga Battlecruiser Retrofit
  - Fleet K't'inga Battlecruiser Retrofit
• Mogh Battlecruiser
   - Fleet Mogh Battlecruiser
Carriers & Flight Deck Carriers
• Vo'Quv Carrier
  - Mirror Vo'Quv Carrier
• Orion Marauder Flight Deck Carrier
• Fleet Vo'Quv Carrier
• Fek'Ihri Kar'Fi Battle Carrier
   - Fleet Fek'Ihri Kar'Fi Battle Carrier
• Orion Corsair Flight Deck Carrier Retrofit
  - Fleet Orion Corsair Flight Deck Carrier Retrofit
Destroyers & Science Destroyers
• Peghqu' Heavy Destroyer

---

• Krenn Temporal Destroyer (Retired)
• Nov Dyson Science Destroyer
• Fleet Peghqu' Heavy Destroyer
• Advanced Dyson Science Destroyers:
  - Chontay Dyson Tactical Science Destroyer (Tactical)
  - MoQ Dyson Battle Science Destroyer (Battle)
  - Ta'Sub Dyson Command Science Destroyer (Command)
• Nausicaan Guramba Siege Destroyer
• Nausicaan Scourge Destroyer Retrofit
  - Fleet Nausicaan Scourge Destroyer Retrofit
Raiders
• Hegh'ta Heavy Bird-of-Prey

---

• Mirror Ki'tang Bird-of-Prey Retrofit
• B'rel Bird-of-Prey Retrofit
   - B'rel Fleet Bird-of-Prey Retrofit
• HoH'SuS Bird-of-Prey
  - Fleet HoH'SuS Bird-of-Prey
• Fleet Norgh Bird-of-Prey Retrofit
Raptors
• Qin Heavy Raptor
  - Mirror Qin Heavy Raptor

---

• Mirror Somraw Raptor Retrofit
• Fleet Qin Heavy Raptor
• Somraw Raptor Retrofit
  - Fleet Somraw Raptor Retrofit
Support Vessels
• Gorn Varanus Support Vessel

---

• Korath Temporal Science Vessel (Retired)
• Gorn Varanus Fleet Support Vessel
Tier 6 ships
Rank
(Lvl. Scaling)
Tier 6 ( unless otherwise noted)
(Lvl. Scaling)
Tier 6 (Fleet+)
Battle Cruisers
• Kurak Battlecruiser
• Negh'Tev Heavy Battlecruiser
• QeHpu' Advanced Light Battlecruiser
• Qib Intel Battlecruiser
• Qugh Miracle Worker Battlecruiser
• Vor'ral Support Battlecruiser
• Fleet Mogh Battlecruiser (T6)
• Fleet Negh'Tev Heavy Battlecruiser
• Fleet QeHpu' Advanced Light Battlecruiser
• Fleet Qib Intel Battlecruiser
• Fleet Qugh Miracle Worker Battlecruiser
• Fleet Vor'ral Support Battlecruiser

---

• Command Battlecruisers (T6):
  - An'quat War Command Battlecruiser
  - Klinzhai Science Command Battlecruiser
  - Ty'Gokor Tactical Command Battlecruiser
• Flagship Battlecruisers (T6):
  - Kahless War Battlecruiser
  - Gorkon Science Battlecruiser
  - Martok Tactical Battlecruiser
• D7 Temporal Battlecruiser
• Na'Qjej Intel Battlecruiser
Carriers & Flight Deck Carriers
• Orion Blackguard Flight Deck Assault Carrier
• Vo'devwl Support Carrier
• Fleet Orion Blackguard Flight Deck Assault Carrier
• Fleet Vo'Quv Carrier (T6)

---

• D7 Miracle Worker Flight Deck Carrier
• Sarcophagus Dreadnought Carrier
Destroyers
• Duvqu' Heavy Destroyer
• Nausicaan Kolasi Siege Destroyer
• Fleet Duvqu' Heavy Destroyer
• Fleet Nausicaan Guramba Siege Destroyer

---

• Chargh'poH Temporal Destroyer /
• Kelvin D7 Heavy Destroyer
Dreadnought Cruisers
• Qoj Command Dreadnought Cruiser
• Fleet Qoj Command Dreadnought Cruiser

---

• D9 Dreadnought Battlecruiser
• Durgath Temporal Heavy Dreadnought Battlecruiser
Escorts & Strike Wing Escorts
• Ferasan Slithus Escort
• Sech Strike Wing Escort
• Fleet Ferasan Slithus Escort
• Fleet Sech Strike Wing Escort

---

• Lethean Allied Pilot Escorts (T6):
  - Lethean Oniros Pilot Escort (Engineering)
  - Lethean Nemosin Pilot Escort (Science)
  - Lethean Xechas Pilot Escort (Tactical)
Raiders
• Kor Bird-of-Prey
• M'Chla Pilot Bird-of-Prey
• Fleet B'rel Bird-of-Prey
• Fleet M'Chla Pilot Bird-of-Prey

---

• Kelvin D4x Pilot Bird-of-Prey
Raptors & Flight Deck Raptors
• Ketha Recon Raptor
• Mat'Ha Raptor
• Qa'Tel Flight Deck Raptor
• Fleet Ketha Recon Raptor
• Fleet Mat'Ha Raptor
• Fleet Qin Flight Deck Raptor

---

• Pilot Raptors (T6):
  - Qui'tu Engineering Pilot Raptor
  - Klavek Science Pilot Raptor
  - Kortar Tactical Pilot Raptor
Support Vessels
• Batlh Intel Science Vessel
• Naj'sov Research Vessel
• Fleet Batlh Intel Science Vessel
• Fleet Naj'sov Research Vessel

---

• Gorn Multi-Mission Explorers (T6):
  - Gorn Khaimas Multi-Mission Reconnaissance Vessel
  - Gorn Ihgomas Multi-Mission Strategic Vessel
  - Gorn Ahgamas Multi-Mission Surveillance Vessel
• Qul'poH Temporal Science Vessel /
Warships
• Chargh Temporal Warship
• Fleet Chargh Temporal Warship
Cruisers
 
• Miracle Worker Cruisers:
  - Mur'Eq (Operations)
  - Antaak (Science)
  - Klothos (Tactical)
Romulan Republic: (Complete & Detailed List)  
Commander's Gig • Tiercel Shuttle • Kestrel Runabout • Scorpion Fighter
Tier 1 - 4 ships
Rank
Tier 1
Tier 2
Tier 3
Tier 4
Warbirds
• T'liss Light Warbird
  - T'varo Light Warbird
• Dhelan Warbird
  - Dhael Warbird
• Mogai Heavy Warbird
  - Valdore Heavy Warbird
• Ar'kif Tactical Warbird
  - Ar'kala Tactical Warbird
Warbird Battlecruisers
 
 
 
• D'deridex Warbird Battlecruiser
  - D'ridthau Warbird Battlecruiser
Tier 5 ships
Rank

Tier 5 (Lvl. 40)

Tier 5 (Lvl. 50)
Can all be upgraded
Destroyers
• Daeinos Warbird Destroyer

---

• Talvath Temporal Destroyer (Retired)
• Fleet Daeinos Warbird Destroyer
Warbirds
• Ha'feh Assault Warbird
  - Mirror Ha'feh Assault Warbird

---

• Mirror Dhelan Warbird Retrofit
• Mirror Mogai Heavy Warbird Retrofit
• Mirror T'varo Light Warbird Retrofit
• Fleet Ha'feh Assault Warbird
• Ar'kif Tactical Carrier Warbird Retrofit
  - Fleet Ar'kif Tactical Carrier Warbird Retrofit
• Dhelan Warbird Retrofit
  - Fleet Dhelan Warbird Retrofit
• Mogai Heavy Warbird Retrofit
  - Fleet Mogai Heavy Warbird Retrofit
• T'varo Light Warbird Retrofit
  - Fleet T'varo Light Warbird Retrofit
Warbird Battlecruisers
• Ha'apax Advanced Warbird
  - Mirror Ha'apax Advanced Warbird
• Haakona Advanced Warbird
  - Fleet Ha'apax Advanced Warbird
• D'deridex Warbird Battlecruiser Retrofit
  - Fleet D'deridex Warbird Battlecruiser Retrofit
Warbird Science Vessels
• Ha'nom Guardian Warbird
  - Mirror Ha'nom Guardian Warbird

---

• R'Mor Temporal Science Vessel (Retired)
• Aves Dyson Science Destroyer
• Fleet Ha'nom Guardian Warbird
• Advanced Dyson Science Destroyers:
  - Harpia (Recon)
  - Tyton (Strategic)
  - Caprimul (Surveillance)
Dreadnought Warbirds
• Dreadnought Warbirds:
  - Scimitar (Tactical)
  - Falchion (Engineering)
  - Tulwar (Science)
Tier 6 ships
Rank
(Lvl. Scaling)
Tier 6 ( unless otherwise noted)
(Lvl. Scaling)
Tier 6 (Fleet+)
Destroyers
• Dinaes Warbird Destroyer
• Fleet Dinaes Warbird Destroyer

---

• Tal'aura Temporal Destroyer /
Flight Deck Carriers
• Suliban Silik Flight Deck Assault Carrier
• Fleet Suliban Silik Flight Deck Assault Carrier
Warbirds
• Faeht Intel Warbird
• Hathos Warbird
• Jhu'ael Tactical Carrier Warbird
• Kholhr Temporal Warbird
• Malem Light Warbird
• Morrigu Heavy Warbird
• Fleet Faeht Intel Warbird
• Fleet Dhelan Warbird
• Fleet Ar'kif Tactical Carrier Warbird
• Fleet Kholhr Temporal Warbird
• Fleet T'varo Light Warbird
• Fleet Mogai Heavy Warbird

---

• Pilot Warbirds (T6):
  - Khaiell Engineering Pilot Warbird
  - Jaeih Science Pilot Warbird
  - Okhala Tactical Pilot Warbird
• T'liss Temporal Warbird
• Legendary Romulan Captain Bundle:
  - T'liss Legendary Light Intel Warbird
Warbird Battlecruisers
• Aelahl Light Warbird Battlecruiser
• Deleth Advanced Light Warbird Battlecruiser
• D'Khellra Warbird Battlecruiser
• Kara Advanced Warbird
• Fleet Aelahl Light Warbird Battlecruiser
• Fleet Deleth Advanced Light Warbird Battlecruiser
• Fleet D'Khellra Warbird Battlecruiser
• Fleet Ha'apax Advanced Warbird (T6)

---

• Command Warbirds (T6):
  - Baratan Operations Command Warbird
  - Deihu Science Command Warbird
  - Vastam Tactical Command Warbird
• Miracle Worker Warbirds (T6):
  - Nijil Operations Miracle Worker Warbird
  - Varel Science Miracle Worker Warbird
  - Tebok Tactical Miracle Worker Warbird
Warbird Science Vessels
• Laeosa Research Warbird
• Fleet Laeosa Research Warbird
• Multi-Mission Explorers (T6):
  - Surhuelh (Reconnaissance)
  - Taenen (Strategic)
  - Galas (Surveillance)

---

• Sui'Mor Temporal Science Vessel /
Carrier & Dreadnought Warbirds
• Ra'nodaire Support Carrier Warbird
• Fleet Ra'nodaire Support Carrier Warbird

---

• Flagship Dreadnought Warbirds (T6):
  - Shamshir Operations Dreadnought Warbird
  - Flambard Science Dreadnought Warbird
  - Khopesh Tactical Dreadnought Warbird
• Kelvin T'laru Intel Carrier Warbird
• Thrai Dreadnought Warbird
• Valkis Temporal Heavy Dreadnought Warbird
Escorts
• Dewan Allied Pilot Escorts (T6):
  - Dewan Dynnasia Pilot Escort (Engineering)
  - Dewan Ikkabar Pilot Escort (Science)
  - Dewan Vandros Pilot Escort (Tactical)
Dominion: (Complete & Detailed List)  
Obedience
brings
Victory



Victory
is
Life
Small Craft
• Jem'Hadar Fighter
Tutorial Starship
• Jem'Hadar Escort (T5-U)
Tier 5
• Jem'Hadar Attack Ship • Jem'Hadar Dreadnought Carrier • Jem'Hadar Heavy Strike Wing Escort
(Lvl. Scaling)
Tier 6
- These ships can be used by any faction immediately.
✓ - These ships can be unlocked for other factions upon reaching Starship Mastery Level VI.
Carriers
• Jem'Hadar Dreadnought Carrier (T6)
• Jem'Hadar Vanguard Carrier ✓
• Jem'Hadar Vanguard Support Carrier
  - Fleet Jem'Hadar Vanguard Support Carrier
Cruisers
• Jem'Hadar Light Battlecruiser
• Jem'Hadar Vanguard Dreadnought Cruiser ✓
Destroyers & Escorts
• Jem'Hadar Recon Ship
• Jem'Hadar Strike Ship
• Jem'Hadar Vanguard Heavy Destroyer
  - Fleet Jem'Hadar Vanguard Heavy Destroyer
Strike Wing Escort
• Jem'Hadar Heavy Strike Wing Escort (T6)

Raiders
• Jem'Hadar Vanguard Heavy Raider ✓
Warships
• Jem'Hadar Vanguard Temporal Warship
  - Fleet Jem'Hadar Vanguard Temporal Warship
• Jem'Hadar Vanguard Warship ✓
Cross-Faction (Event,, , Complete & Detailed List)  
Ferengi Na'Far • Tholian Widow Fighter • Vaadwaur Pythus Fighter • Voth Heavy Fighter
Suliban Cell Ship • Tuffli Freighter
Ship type

Tier 5 (Lvl. 40)
Can be upgraded unless otherwise noted
(Lvl. Scaling)
Tier 6
Battle Cruisers
• Elachi Monbosh Battleship (Retired)
• Ferengi D'Kora Marauder (Retired)
• Tal Shiar Khnial Adapted Battlecruiser (Retired)
• Hirogen Apex Heavy Battlecruiser
• Malon Battlecruiser
• Elachi Ornash Battlecruiser
• Ferengi Nagus Marauder (Promotional)
• Ferengi Quark Marauder
• Tal Shiar Khlinae Adapted Battlecruiser
• Jem'Hadar Light Battlecruiser
• Khitomer Alliance Battlecruiser
• Na'kuhl Acheros Battlecruiser
• Son'a Intel Battlecruiser
• Tzenkethi Rhas'bej Battlecruiser
• Vaadwaur Astika Heavy Battlecruiser
Carriers
• Jem'Hadar Dreadnought Carrier
• Tholian Recluse Carrier (Retired)
• Xindi-Aquatic Narcine Dreadnought Carrier (Retired)
• Obelisk Carrier , Cannot be upgraded
  - Advanced Obelisk Carrier
• Jem'Hadar Dreadnought Carrier (T6)
• Tholian Jorogumo Carrier
• Xindi-Aquatic Briostrys Dreadnought Carrier
• Breen Sarr Theln Carrier
• Fek'Ihri Fe'rang Dreadnought Carrier
• Herald Vonph Dreadnought Carrier
• Hur'q Vedcrid Hive Dreadnought Carrier
• Sphere Builder Denuos Dreadnought Carrier
• Tzenkethi Tzen-tar Dreadnought Carrier
• Vorgon Ryn'kodan Carrier
Cruisers
• APU Cruiser
• Cardassian Galor Cruiser
• Undine Dromias Bio-Cruiser (Retired)
• Risian Luxury Cruiser
• Benthan Assault Cruiser /
• Cardassian Keldon Cruiser
• Undine Kiwavi Bio-Cruiser
• Kobali Samsar Cruiser
• Zahl Heavy Cruiser
Destroyers
• Tal Shiar Llaihr Adapted Destroyer (Retired)
• Nihydron Destroyer
• Sphere Builder Arehbes Destroyer
• Tal Shiar Mandukar Adapted Destroyer
• Hazari Destroyer
Dreadnought Cruisers
• Voth Bulwark Dreadnought Cruiser
• Breen Rezreth Dreadnought Cruiser
• Chronos Temporal Dreadnought Cruiser
• Elachi Sheshar Command Dreadnought Cruiser
• Elachi Sheshar Intel Dreadnought Cruiser
• Styx Terran Dreadnought Cruiser
• Tholian Tarantula Dreadnought Cruiser
• Vorgon Ytijara Dreadnought Cruiser
• Xindi-Primate Ateleth Dreadnought Cruiser
Escorts
• Elachi S'golth Escort (Retired)
• Jem'Hadar Attack Ship
• Risian corvette
• Xindi-Reptilian Contortrix Escort (Retired)
• Hirogen Hunter Heavy Escort
• Tholian Meshweaver Escort
• Elachi S'ateth Escort
• Jem'Hadar Recon Ship
• Jem'Hadar Strike Ship
• Risian corvette (T6)
  - Risian Pilot corvette (T6)
• Xindi-Reptilian Sistruus Escort
• Amarie Smuggler's Heavy Escort /
• Cardassian Detapa Intel Escort
• Denorios Bajoran Interceptor
• Tzenkethi Shuk-din Escort
• Vaadwaur Manasa Assault Escort
• Vorgon Xyfius Heavy Escort
Flight Deck Carriers
• Voth Bastion Flight Deck Carrier (Retired)
• Voth Rampart Command Flight Deck Carrier
• Cardassian Ghemor Intel Flight Deck Carrier
• Herald Quas Flight Deck Carrier
Frigates & Scout Ships
• Lukari N'Kaam Scout Ship‎‎
• Lukari Dranuur Scout Ship‎‎
• Elachi Qulash Frigate
• Vulcan Experimental Scout Vessel
• Vulcan T'Pau Scout Ship
Raiders
• Breen Plesh Brek Heavy Raider
• Kazon Heavy Raider
• Breen Plesh Tral Heavy Raider
• Herald Baltim Heavy Raider
• La Sirena Heavy Raider
• Maquis Raider
• Miradorn Theta Heavy Raider
• Na'kuhl Tadaari Raider
• Ouroboros Temporal Raider‎
Science Vessels
• Tholian Orb Weaver (Retired)
• Voth Palisade Science Vessel (Retired)
• Tholian Iktomi
• Voth Bastille Temporal Science Vessel
• Ba'ul Sentry Vessel
• Eternal Temporal Multi-Mission Science Vessel
• Hur'q Nekcrid Assembly Multi-Mission Science Vessel
• Krenim Science Vessel
• Lukari Ho'kuun Science Vessel
• Na'kuhl Daemosh Science Vessel
• Risian Weather Control Vessel
• Son'a Command Science Vessel
• Sphere Builder Edoulg Science Vessel
Strike Wing Escort
• Jem'Hadar Heavy Strike Wing Escort
• Jem'Hadar Heavy Strike Wing Escort (T6)
• Hur'q Vridyat Ravager Strike Wing Escort
• Xindi-Insectoid Olaen Heavy Strike Wing Escort
Warships
• Breen Chel Grett Warship
• Undine Nicor Bio-Warship (Retired)
• Breen Chel Boalg Warship
• Undine Cheirax Bio-Warship
• Fek'Ihri S'torr Warship
• Ferengi Nandi Warship
• Husnock Warship
• Krenim Imperium Warship
Juggernauts
• Liberated Borg Command Juggernaut
• Vaadwaur Miracle Worker Juggernaut
Science Dreadnoughts
• Cardassian Damar Intel Science Dreadnought
• Krenim Annorax Science Dreadnought
• Paradox Temporal Dreadnought
• Son'a Collector Science Dreadnought
Legend & Lists of Starships  
Legend

See also
Ship requisitions officers • Fleet Ship Module • Starship Upgrade Requisition
Starships by type: Small Craft • Freighter

Cruiser • Battlecruiser • Dreadnought (Battle) Cruiser • Frigate • Engineering Carrier • Flight Deck Carrier • Heavy Dreadnought (Battle) Cruiser • Warbird Battlecruiser
Escort • Raptor • Destroyer • Dreadnought Carrier • Strike Wing Escort • Flight Deck Raptor • Juggernaut • Raider • Siege Destroyer • Warship • Warbird

T6 Starships by equipment slots: Engineering consoles • Science consoles • Tactical consoles • Weapons • Hangar bays
T6 Starships by specialization seating: Command • Intel • Miracle Worker • Pilot • Temporal