As part of the Unified Community Platform project, your wiki will be migrated to the new platform in the next few weeks. Read more here.
Iconian Dreadnought
Timeline Change Imminent!

---

This article contains information that no longer applies to the current version of Star Trek Online. It is provided only for historical purposes.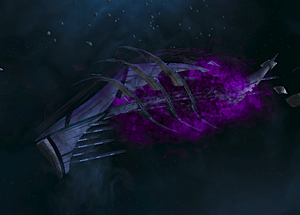 The Iconian Dreadnought (official designation unknown) was a type of starship used by the Iconians. Despite their frail appearance they are formidable warships, more than a match for most vessels.
| Level | Standard Difficulty | Advanced Difficulty | Elite Difficulty |
| --- | --- | --- | --- |
| 28 | 157,882 | - | - |
These vessels were the first Iconian starships in the game, and appeared in the following missions: