I.S.S. Transport
Timeline Change Imminent!

---

This article contains information that no longer applies to the current version of Star Trek Online. It is provided only for historical purposes.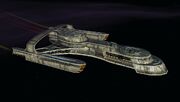 The I.S.S. Transport is a Terran troop carrier. In 2409 she participates in the Empire's invasion of the prime universe.
Both troop carriers were labelled I.S.S. Transport, thus it is likely a generic designation (cf. I.S.S. Battleship).
In the Legacy of Romulus expansion, the Terran Transports became generic freighters labeled "Troop Transport".