I.S.S. Intrepid
Timeline Change Imminent!

---

This article contains information that no longer applies to the current version of Star Trek Online. It is provided only for historical purposes.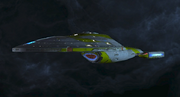 The I.S.S. Intrepid (NCC-74621-B) is an Intrepid-class Science Vessel and the mirror universe counterpart of Federation Starfleet's U.S.S. Intrepid. She takes part in the Terran Empire's invasion of the prime universe.
The Intrepid was removed from the game and replaced with the I.S.S. Star Treader in mid-to-late 2012.