I.S.S. Enterprise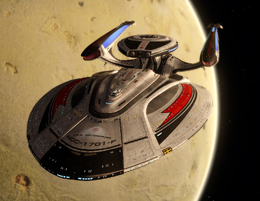 The I.S.S. Enterprise is a Terran Odyssey Dreadnought Cruiser serving the Terran Empire under the command of Admiral Leeta.
Badlands Battlezone: The Enterprise appears during the final phase of the Badlands Battlezone. If defeated, the Enterprise retreats through a portal.
"Temporal Reckoning": The player battles the Enterprise at New Khitomer.
"Ragnarok": Leeta commands the Enterprise during the Battle of Procyon V. Once defeated aboard the Enterprise-J, Leeta escapes to the I.S.S. Enterprise and withdraws from the battle.
"Aftershocks": After returning to the Mirror Universe following her latest defeat, Admiral Leeta receives orders from the Emperor to surrender command of the Enterprise to Commander Jarok. Before she and her crew can make their escape, the Enterprise is attacked by the I.S.S. Pastak, along with the Tempus and Poh; however, Leeta is able to transmit a secret code which disables the vessels and allows the Enterprise to destroy the Pastak, after which the other vessels pledge their loyalty to Leeta. She prepares to find new allies, using information downloaded from New Khitomer in the other universe.