I.S.S. Avenger
Timeline Change Imminent!

---

This article contains information that no longer applies to the current version of Star Trek Online. It is provided only for historical purposes.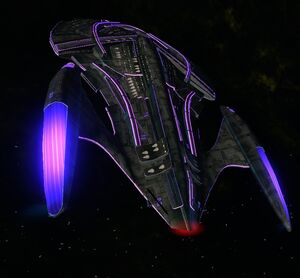 The I.S.S. Avenger (NCC-95792) is an Avenger-class Cruiser and prototype of the Terran Empire's Avenger class Assault Cruiser. She is part of Captain O'Brien's attempted invasion of the Federation in 2409. She may be named for an NX-class starship of the same name that was active during the 22nd century.
The Avenger is the mirror universe counterpart of the Federation starship U.S.S. Avenger.
See Terran Cruiser.
In June 2012, Terran starships received a visual makeover and the Avenger was replaced by the I.S.S. Emissary.