As part of the Unified Community Platform project, your wiki will be migrated to the new platform in the next few weeks. Read more here.
I.R.W. Calaf
Timeline Change Imminent!

---

This article or section contains information that no longer applies to the current version of Star Trek Online. It is provided only for historical purposes.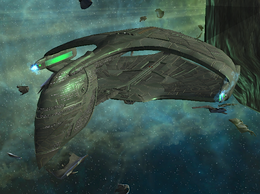 The I.R.W. Calaf is a Romulan D'deridex Battlecruiser in service to the Romulan Star Empire in 2409. In that year she is commanded by Teleb.
| Level | Standard Difficulty | Advanced Difficulty | Elite Difficulty |
| --- | --- | --- | --- |
| 25 | 36,737 | | |
| 26 | 39,590 | | |
| 28 | 42,530 | | |
| 30 | 47,104 | | |
| 32 | 50,206 | | |