As part of the Unified Community Platform project, your wiki will be migrated to the new platform in the next few weeks. Read more here.
I.K.S. Worvig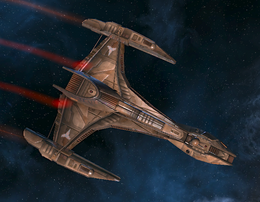 The I.K.S. Worvig is a Somraw class Klingon Raptor Escort under the command of Ambassador B'vat.
"Past Imperfect": Admiral B'vat sends the Worvig back in time to 2270 and gives command of the ship to his past self. Later, after B'vat Prime abducts Miral Paris, the Worvig attacks the U.S.S. Enterprise in an attempt to change history even further. A young Captain B'vat informs the player that many of the Worvig's crew are "crazed" due to their exposure to the augmentation process.