As part of the Unified Community Platform project, your wiki will be migrated to the new platform in the next few weeks. Read more here.
I.K.S. Targ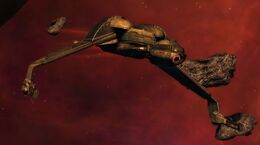 The I.K.S. Targ is a B'rel class Klingon Bird-of-Prey active in 2409.
"The Doomsday Device": The player commandeers the Targ from the Donia System in an effort to infiltrate B'vat's base on Imaga. The player uncovers Captain D'Tang's log, from which they discover that First Officer K'Valk attempted to seize control of the ship, but was overpowered and thrown in the brig. Ambassador B'vat ordered D'Tang to bring K'valk to Imaga for questioning. The ship is captured by Starfleet, repaired, and used to destroy the Doomsday Machine.