I.K.S. Rurik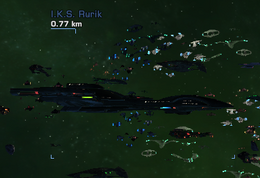 The I.K.S. Rurik is a Qin-class raptor that was part of Captain Kagran's all-out assault on the Herald Sphere.
"Broken Circle" : The Rurik is part of Alpha Wing, which stands by for the player before setting course for the Herald Sphere.
The Rurik was probably named after

Rurik the Damned

, a renowned Klingon Warrior.