I.K.S. Hegh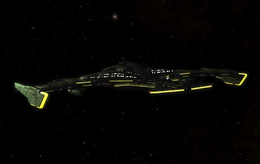 The I.K.S. Hegh is a Qib Intel Battlecruiser in service to the Klingon Defense Force in 2410. It serves as the base of operations for House Pegh, under the command of Emperor Kahless.
The Hegh is equipped with a cloaking device capable of cloaking not only the Hegh itself, but nearby allied vessels as well.
The Hegh is the first NPC Qib-class vessel to appear in the game.
Upon reaching tier 10 in the Klingon Empire Admiralty campaign, The I.K.S. Hegh becomes available on the player's ship roster.
Admiralty Ship
62
42
31
+20 SCI per Any Ship