House of Martok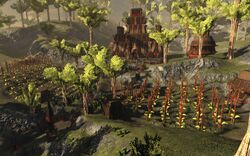 The House of Martok is one of the Great Houses of the Klingon High Council. It is named after Martok, the Klingon Chancellor from 2375 to his apparent death in 2393. As of 2409, the house is led by Lady Sirella from the houses mansion in the Ketha Lowlands.
While her step-father Worf is a member of the House of Martok, it has not yet been confirmed whether Koren is also a member.
Despite Worf stating in "Bringing Down The House" that the B'Ellera, the female Klingon Tactical officer the player is given as a mission reward, was personally trained by him, it is not made clear if she is a member of the House of Martok or merely Worf's student.
Loresinger B'Alea gives background to the House of Martok and its relations with the House of Duras.