Hadron
Hadron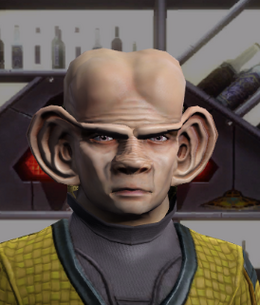 Profession(s):
Special Items Vendor
Mission contact
Bartender
Hadron is a Ferengi vendor located in Quark's Bar on Deep Space 9. He accepts only Gold-Pressed Latinum and Sells Latinum Trophies, or Personal and Ship Holo Emitters.
Hadron used to be the food vendor and be positioned at the end of the bar closest to the door. With the release of Victory is Life, Hadron's role and place was filled by Quark (along with the missions Hadron was involved in). Hadron's role and spot was previously occupied by Woadroh "Woadie" Bhoith.
Level
Standard Difficulty
Advanced Difficulty
Elite Difficulty
Shields
Health
Shields
Health
Shields
Health
39
1,023
2,047
-
-
-
-
Commodities
Costumes
"Of Bajor": The player uses a subspace relay to covertly contact Hadron after Deep Space 9 is seized by the Dominion. He provides the player with information on Kar'ukan and Loriss, and reveals that they believe the Dominion War is still going on, and they had expected a Dominion fleet and a Founder to be awaiting their arrival.
Missions formerly involved
[
edit
|
edit source
]
Before his removal, Hadron was voiced in "Diplomatic Distractions" and "Home Away From Homesick."
When he accepted energy credits, Hadron would buy items at the minimum 50% markdown (unlike most Ferengi)
---