Hadrian Vosker

Hadrian Vosker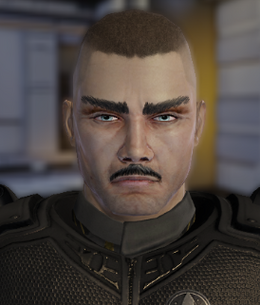 Hadrian Vosker was the warden of Facility 2047 during the Federation-Klingon War in 2256.
Hadrian Vosker was known for having a liberal interpretation of Starfleet's values when dealing with prisoners.
Ellen Landry, having worked with him before, was concerned that prisoners would be mistreated by him, although Vosker claimed the Admiralty approved everything he did. He viewed his prisoners, the Klingons specifically, as expendable; as he was willing to allow one high value prisoner to fall to his death rather than aid him.
Despite this, Vosker must have been a notable officer, as, almost two centuries after, a holographic Warden of the Facility 4028 would be based on his appearance.