Frenek (Benthan)
For the Reman of the same name, see Frenek (Reman).

Frenek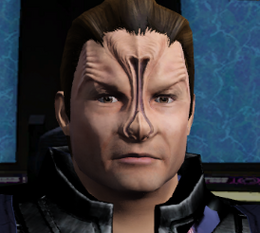 Captain Frenek is a Benthan officer.
"Revolution": After the player takes control of a Vaadwaur vessel in the Molinya System, Frenek mistakes the player for Vaadwaur and attempts to board the ship. The player is forced to disable Frenek's ship, and has the option to destroy it. If the player opts to let Frenek live, Eldex destroys the ship instead.