As part of the Unified Community Platform project, your wiki will be migrated to the new platform in the next few weeks. Read more here.
Flashlight
Flashlight
Common Ground Device
Bind On Pickup
Unique - Max of one per character
Values do not reflect skills or other modifiers
Value: 0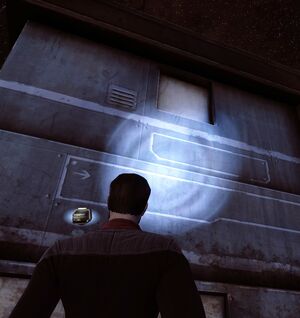 The Flashlight must be equipped in a device slot in order to activate.
Turn this on when it is dark to illuminate the area directly in front of you.
The flashlight will aim wherever your cursor points, which may be different from where your player is facing.
The Flashlight was a device uniquely designed for "What Lies Beneath". It can be found in a crate at the end of the first corridor of Drozana Maintenence Levels. It is removed from the player's possession after leaving the map. It can be acquired permanently from a supply crate in the staging area of "Starbase Incursion" and is vital for navigating the darkened cargo hold. It can also be acquired permanently from a rack in the staging area of "Defend Rh'Ihho Station". More than one may be obtained by equipping them to bridge officers first, then the captain/character.
According to mission designer Jesse Heinig the Flashlight is removed from the player due to hardware limitations. Since each player would be able to carry a dynamic light source, social areas with 30+ players could not be rendered anymore with most GPUs.
This item was originally not unique.
---