Farpoint Cnidarian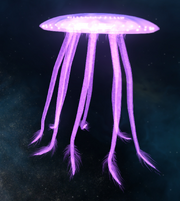 Farpoint Cnidarians, also known as The Great Ones, are a race of cosmozoan creatures.
The Farpoint Cnidarians were first encountered by the Enterprise-D at Farpoint Station.
"Echoes of Light": The player and Captain Kuumaarke discover Farpoint Cnidarians in the 20 Draconis System - the first encountered since the encounter at Farpoint. They transmit a greeting to the cosmozoans, and they appear to reply with a color display.
---